INTERNATIONAL MINING AND RESOURCES CONFERENCE + EXPO (IMARC) ONLINE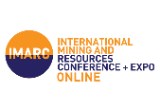 24 November 2020 - 27 November 2020
---
IMARC Online, commencing on 24th November 2020, offers a global platform for the resources industry's leading identities and influencers to come together and address the hot topics and interactions that are - more than ever - relevant to the way we shape the future of an industry that will stand centre-stage reshaping the global economy post COVID-19.
IMARC Online is uniquely positioned to aid our customers and their businesses in the global economic recovery, by providing an opportunity for the global mining and resources community to interact, network, learn and engage. The interactive program will run over several days and global time zones to allow attendees from all over the world to engage, collaborate, generate business and learn.
IMARC Online's interactive programme includes all the components you have come to expect from IMARC, including workshops, keynote presentations, networking, meetings, and a dynamic virtual EXPO hall; showcasing the latest mining projects, technology and innovations and international governments displaying the best their region has to offer.
In addition, we welcome a series of co-located events including the popular IMARC METS Arena #LIVE, Mines and Money 5@5 and Mines and Money Online Connect.